The Swedish Institute of Space Physics (
Institutet för rymdfysik
, IRF) is a governmental research institute with about 100 employees. Its primary task is to carry out basic research, education and associated observatory activities in space physics, space technology and atmospheric physics. IRF has employees in Kiruna, Umeå, Uppsala and Lund. The main office is located in Kiruna in northern Sweden (geographic coordinates 67.84° N, 20.41° E). IRF has satellite instruments orbiting the Earth, Mars and Saturn; instruments from IRF have recently made measurements round the moon and Venus; two instruments are on a spacecraft at present observing the comet 67P/Churyumov-Gerasimenko; three instruments have been developed for a combined European and Japanese mission to Mercury in 2018; and IRF has responsibility for two instruments on a major European mission to Jupiter and its icy moons in 2022.


Kiruna
The research activities at IRF's head office in Kiruna concern studies of phenomena in the upper atmosphere, the ionosphere and in planetary magnetospheres (in particular that of the Earth).
[Read more]


Umeå
IRF's group in Umeå studies the propagation of infra-sound in the atmosphere and has developed new methods for signal processing and data analysis.


Uppsala
Together with the Astronomy and Space Physics Division of Uppsala University's Department of Physics and Astronomy, IRF in Uppsala is active in the research fields of space plasma and theoretical plasma physics.


Lund
IRF's group in Lund models and predicts space weather with the use of intelligent hybrid systems.
---


IRF's staff gathered at head office in Kiruna in November 2015. (Photo: Hans Nilsson, IRF)

---
The IRF Board (Insynsrådet)
The Government has appointed the following people as members of the IRF Board (insynsrådet). The Director of IRF is the chairman of the board, which is entrusted with keeping the government informed about the institute's activities.
Ella Carlsson Sjöberg (chairman, ex officio)
Anders Fällström (Mid Sweden University/Mittuniversitetet), until 2019-12-31
Anders Jörle, until 2019-12-31
Mark Pearce (Royal Institute of Technology/KTH), until 2019-04-30
Anneli Sjögren, until 2019-12-31
Anja Taube (Sami Parliament/Sametinget), until 2019-04-30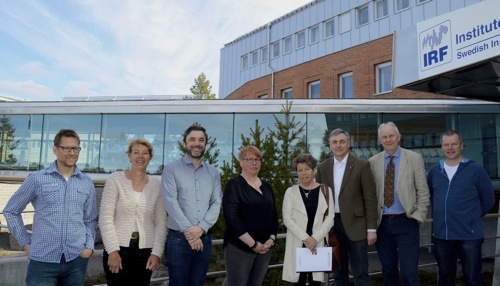 From left: Stefan Karlsson (staff representative), Anneli Sjögren, Mark Pearce, Anna-Karin Ukonsaari (Financial Manager), Anja Taube, Stas Barabash, Anders Jörle, Uwe Raffalski (staff representative), May 2016 (Photo: Rick McGregor, IRF).
---
The IRF Executive (Institutsledningen)
Dr Ella Carlsson Sjöberg (Acting Director)
Prof. Mats André (Deputy Director and Head of Space Plasma Physics Research Programme, Uppsala)
Prof. Stas Barabash (Head of Solar System Physics and Space Technology Research Programme, Kiruna)
Dr Urban Brändström (Head of Observatory activities)
Cecilia Flemström (Personnel Officer)
Dr Johan Kero (Head of Solar Terrestrial and Atmospheric Research Programme, Kiruna, Lund, Umeå, Uppsala)
Dr Rick McGregor (Research and Development Officer)
Assoc. Prof. Hans Nilsson (Computer Group Manager)
Anna-Karin Ukonsaari (Financial Manager)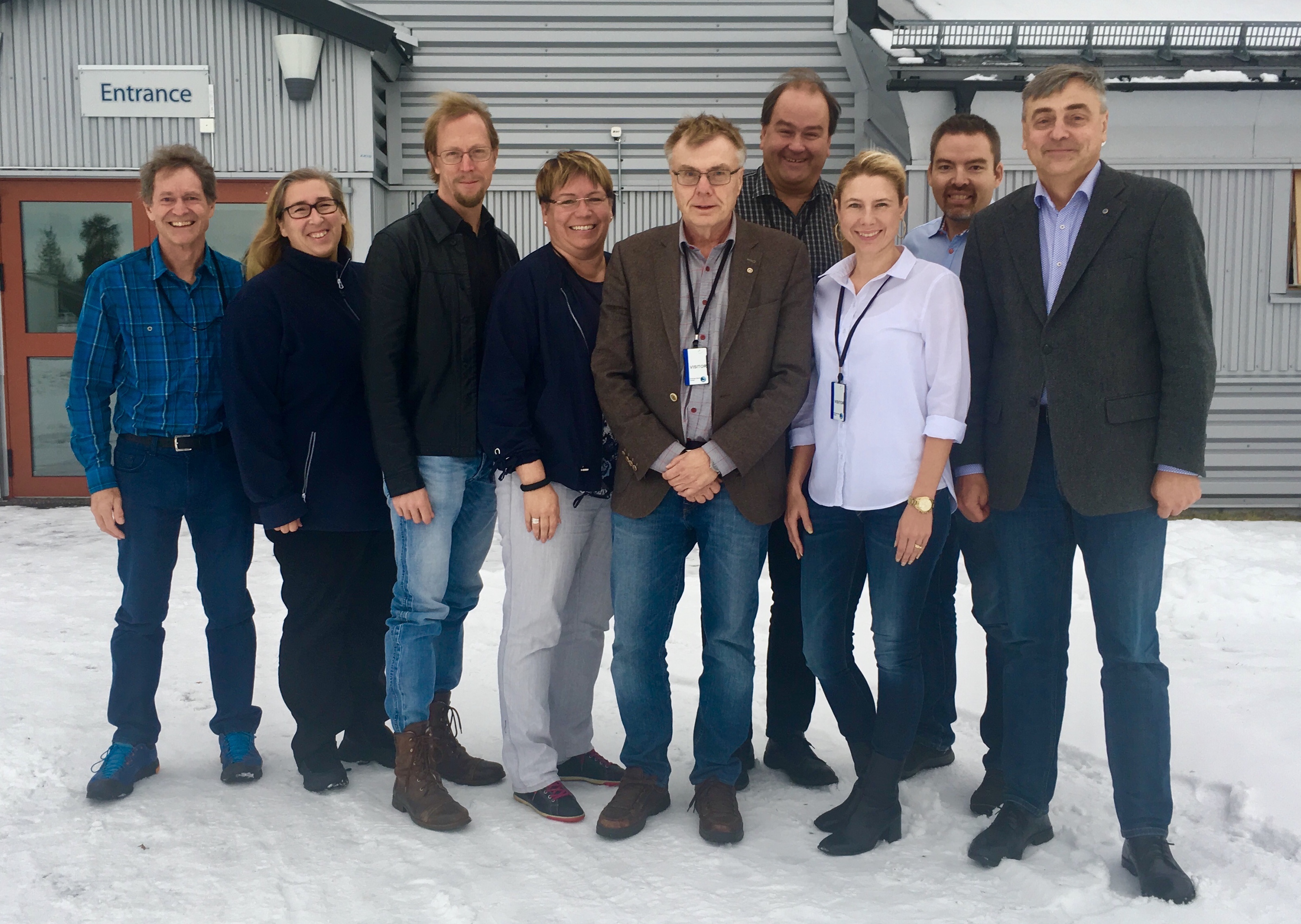 IRF's executive, from left: Rick McGregor, Ella Carlsson Sjöberg, Hans Nilsson, Anna-Karin Ukonsaari, Mats André, Urban Brändström, Cecilia Flemström, Johan Kero, Stas Barabash. (Photo: Maria Wästle, IRF)
---
Steering documents etc (Styrdokument mm)
---
Personal data processing
The Swedish Institute of Space Physic (IRF) has a Data Protection Officer who is responsible for ensuring that we process personal data according to current legislation. Our Data Protection Officer can be contacted via our switchboard +46-980-79000, by e-mail to dataskyddsombud@irf.se, or by writing to the Swedish Institute of Space Physics, Box 812, SE-98128 Kiruna, Sweden.
---
webmaster*irf.se
Updated 2019-01-23