Skiing
That is REAL skiing
---
One of my friends here at the institute agrees that cross-country skiing is a sport for real men like himself, since he made THE real test, Vasaloppet which he made at the time 7.05.36, 1995.
---
But on a suprisingly interesting discussion on the nordic-skiing list about pole-length and double poling, the example that proves the possibillity of information exchange on the net, I've done a simple simulation of a double poling - yet headless - skier. This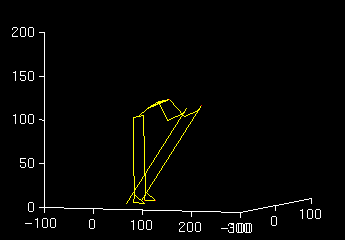 skier resembles me in an embarassing way - some years ago I usually died after some 5 km in every race, all the time, race after race...

...and I still ski into the darkness in most races...

---
By Björn Gustavsson (7 Maj 96 )