Kiruna, 2008-09-04
Pressmeddelande från Institutet för rymdfysik
Press Release from the Swedish Institute of Space Physics
(in English below)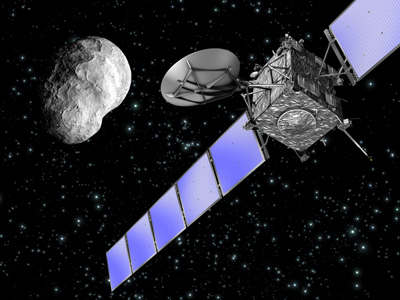 Rosetta spacecraft approaching asteroid Steins (artist's impression, ESA)
Svenska instrument letar svallvågor när rymdfarkosten Rosetta möter asteroiden Steins
På fredag kväll den 5 september passerar den europeiska rymdfarkosten Rosetta nära asteroiden Steins. Förbiflygningen väntas ge de första detaljerade bilderna av denna hittills rätt okända himlakropp. Rosettas huvudmål, kometen Churyomov-Gerasimenko, nås inte förrän 2014, men på vägen passeras alltså den några kilometer stora asteroiden Steins.
Institutet för rymdfysik (IRF) har två instrument ombord på Rosetta: en jonanalysator (ICA) byggd vid IRF i Kiruna, och en rymdväderstation av en typ som kallas Langmuirprob (LAP), byggd vid IRF i Uppsala. Medan Rosettas kameror tar bilder av asteroiden kommer de svenska instrumenten att undersöka hur den kilometerstora asteroiden påverkar solvinden runt sig.
Till största delen är asteroiderna materia som blev över när solsystemet skapades. Liksom de flesta andra asteroider (nästan 200 000 är kända) ligger Steins i ett bälte mellan Mars och Jupiter. Bara några få närbilder på asteroider finns tillgängliga från tidigare rymdfarkoster som passerat dem, och förhoppningarna på Rosetta är därför stora. Men hur är chanserna för IRF:s instrument, som letar efter asteroidens svallvåg där den plöjer fram genom solvinden?
"Det är inte troligt att våra instrument kommmer att kunna se något", säger forskaren Hans Nilsson vid IRF, "men om vi skulle göra det så vore det fantastiskt". Om man verkligen skulle kunna se en svallåg från asteroiden på 800 km avstånd från den, vilket är så nära som Rosetta kommer, så skulle det betyda att asteroiden har ett ganska starkt magnetfält. Det är det ingen som väntar sig, och just därför är möjligheten så intressant.
Mer information:
Dr Hans Nilsson, forskare vid IRF ansvarig för ICA, tel. 0980-79127, hans.nilsson*irf.se
Dr Anders Eriksson, forskare vid IRF ansvarig för LAP, tel. 0701-713029,
anders.eriksson*irfu.se
Rick McGregor, informationsansvarig vid IRF, 0980-79178, rick.mcgregor*irf.se
Webbsidor:
---
Swedish instruments looking for ripples when the Rosetta spacecraft meets asteroid Steins
The European Space Agency ESA's Rosetta spacecraft will make a historic encounter with asteroid 2867 Steins tomorrow (Friday 5 September 2008). Steins is Rosetta's first nominal scientific target. The spacecraft will rendezvous with the asteroid in the course of its first venture into the asteroid belt located between the orbits of Mars and Jupiter, while on its way to its ultimate destination, the comet 67P/Churyumov-Gerasimenko. Tomorrow's encounter is expected to give detailed images of the asteroid, of which very little is known.
The Swedish Institute of Space Physics (IRF) has two instruments on board Rosetta, an ion composition analyser (ICA) developed at IRF in Kiruna and a space weather station of a type called a Langmuir probe (LAP) developed at IRF in Uppsala. Both are part of the Rosetta Plasma Consortium (RPC). The instruments will be turned on during the fly-by past the asteroid to see whether it disturbs the solar wind enough for the ripples to be detected from the spacecraft.
"It is unlikely that our instruments will detect anything," says IRF scientist Hans Nilsson, "but we will be checking the data with great interest. If we do see something from that distance it will be very exciting!"
The study of asteroids is important as they represent a sample of Solar System material at different stages of evolution - and thus are a key to understanding the origin of our own planet and of our planetary neighbourhood. The closest approach to Steins is due to take place on 5 September at 20:58 CEST (Central European Summer Time), at a distance of 800 km.
More information:
Dr Hans Nilsson, IRF scientist responsible for ICA, tel. +46-980-79127,
hans.nilsson*irf.se
Dr Anders Eriksson, IRF scientist responsible for LAP, tel. +46-701-713029,
anders.eriksson*irfu.se
Rick McGregor, Information Officer, IRF, tel. +46-980-79178, rick.mcgregor*irf.se
Web pages:
---
Updated: 2008-09-05, webmaster*irf.se
---
The Swedish Institute of Space Physics (IRF) is a governmental research institute which conducts research and postgraduate education in atmospheric physics, space physics and space technology. Measurements are made in the atmosphere, ionosphere, magnetosphere and around other planets with the help of ground-based equipment (including radar), stratospheric balloons and satellites. IRF was established (as Kiruna Geophysical Observatory) in 1957 and its first satellite instrument was launched in 1968. The head office is in Kiruna (geographic coordinates 67.84° N, 20.41° E) and IRF also has offices in Umeå, Uppsala and Lund.
---
Institutet för rymdfysik, IRF, är ett statligt forskningsinstitut under Utbildningsdepartementet. IRF bedriver grundforskning och forskarutbildning i rymdfysik, atmosfärsfysik och rymdteknik. Mätningar görs i atmosfären, jonosfären, magnetosfären och runt andra planeter med hjälp av ballonger, markbaserad utrustning (bl a radar) och satelliter. För närvarande har IRF instrument ombord på satelliter i bana runt tre planeter, jorden, Mars och Saturnus. IRF har ca 100 anställda och bedriver verksamhet i Kiruna (huvudkontoret), Umeå, Uppsala och Lund.
---