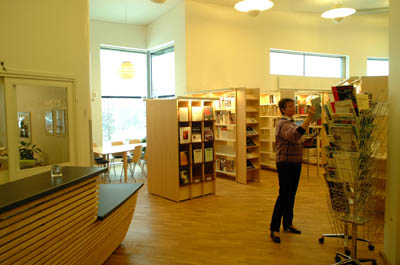 CATALOGUE
The online catalogue can be accessed via:
http://www.irf.se/link/webopac

ONLINE JOURNALS
The journals which IRF staff and students have online access to are listed at http://www.irf.se/link/admin_library_journals (generally on-site only)
HOURS
The Library is open to staff and students during IRF's usual business hours,
Mon-Fri 7.45 - 16.15, or by special arrangement with library staff.
WHO HAS ACCESS TO THE LIBRARY?
IRF's own scientists and other staff
IRF's divisions in Ume�, Uppsala and Lund
Space Engineering students, Ume� University and Lule� University of Technology
Guest scholars and students
EISCAT staff
SSC Esrange and other research institutions in Kiruna
Teachers and pupils with special interests
BOOKS
At present the library has some 7,000 books registered in the library catalogue, the bulk of them in the areas of space, physics and computing.
PERIODICALS
Some 200 journals are registered in the library catalogue. They cover the same subject areas as the books. Some journals are available to IRF staff and students online in full-text versions: http://www.irf.se/link/admin_library_journals (on-site only)
For a list of the journals held by IRF's library, with years covered and how long they are archived for, see Journal Holdings (PDF file, 28 k).
DATA REPORTS
We have a large number of data reports from 33 countries.
REPORTS AND OFF-PRINTS
We archive reports and off-prints of articles written by our own scientists since 1957.
See also IRF's publications page.
STAFF
Rick McGregor, tel:+46-980-79178
(overall responsibility for the Library)
Telephone number to the library:
+46-980-79090
E-mail address to IRF's library:
biblio@irf.se
---
Webmaster*irf.se, updated 2016-12-20