ESA delays the launches of BepiColombo and Solar Orbiter
The European Space Agency (ESA) has announced new launch dates for two space missions to which IRF is contributing, the BepiColombo mission to Mercury and the Solar Orbiter mission to the sun.
The launch of BepiColombo, ESA's mission to explore the planet Mercury in collaboration with the Japanese space agency, JAXA, is now planned to take place during a one month long window starting on 27 January 2017. IRF is providing three instruments on BepiColombo, two from Kiruna and one from Uppsala; IRF will have instruments on both the European and the Japanese spacecraft.
The launch of Solar Orbiter, ESA's mission to explore the Sun in unprecedented detail, is now planned to take place in October 2018 (the launch was previously targeted for July 2017). IRF in Uppsala is contributing to the RPW instrument, Radio and Plasma Waves, led by LESIA, Observatoire de Paris, France.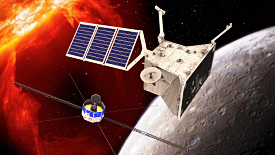 Artist's impression of BepiColombo (Image: ESA)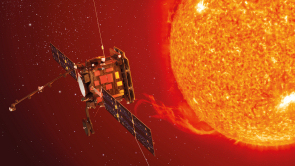 Artist's impression of Solar Orbiter (Image: ESA)
More information from ESA on BepiColombo:
http://sci.esa.int/jump.cfm?oid=55693
More information from ESA on Solar Orbiter:
http://sci.esa.int/jump.cfm?oid=55772
Created 2015-04-14 13:34:13 by Rick McGregorLast changed 2015-04-14 13:47:33 by Rick McGregor