SRS (Svenska Rymdforskares Samarbetsgrupp) annual meeting, Kiruna, 15-16 March 2018
Svenska Rymdforskares Samarbetsgrupp 2018
The annual SRS meeting in 2018 was held at the Swedish Institute of Space Physics (IRF) in Kiruna, Thursday-Friday 15-16 March 2018. More information about
Svenska Rymdforskares Samarbetsgrupp
(in Swedish).
We are glad so many of you came to Kiruna and IRF.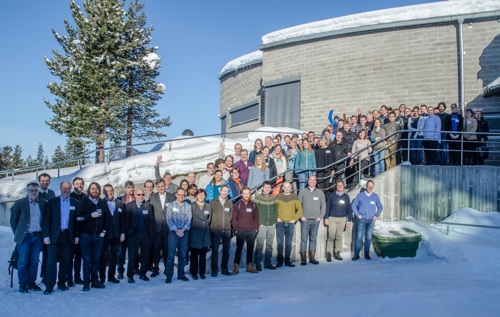 SRS 2018 group photo (Photo: Rick McGregor, IRF)
More photos
(Photographer: Rick McGregor, IRF)
Meeting agenda
Only invited speakers as decided by the SRS committee.
The programme is found HERE.
This year's invited speakers were:
Astrobiology
Magnus Ivarsson
Astronomy
Mark Pearce (KTH)
Elvire De Beck (Chalmers)
Atmospheric physics
Thomas Kuhn (LTU)
Kristell Perot (Chalmers)
Earth observations
Oleg Lupikov (Chalmers)
Lars Eklund (Lund)
Micro-gravity and life science
Maria Jönsson (KTH)
Jan van Stam (Karlstad U.)
Solar System
Jan-Erik Wahlund (IRF-Uppsala)
Shahab Fatemi (IRF-Kiruna)
Space plasma
Timofei Serguienko (IRF-Kiruna)
Emiliya Yordanova (IRF-Uppsala)
Location
The meeting took place at the Swedish Institute of Space Physics. The institute is located at the Kiruna Space Campus, 6 km south of the city centre along the E10 highway.
Visit Esrange
There was a visit to Esrange on the afternoon of the 14th of March.
Visit IRF
Tours of IRF and the Space Campus were organised on 14 and 16 March, before and after the meeting.
Conference dinner
On Thursday night there was a joint dinner, courtesy of the Swedish National Space Board, SNSB, at Scandic Ferrum.
Travel grant application
SNSB supported a number of PhD students for travel and accommodation.
Questions:
Ella Carlsson Sjöberg
ella@irf.se
---
Updated: 2018-03-16, RMcG
Created 2017-11-22 16:04:38 by Rick McGregorLast changed 2018-03-16 16:29:03 by Rick McGregor