SRS (Svenska Rymdforskares Samarbetsgrupp) annual meeting, Uppsala, 11-12 March 2014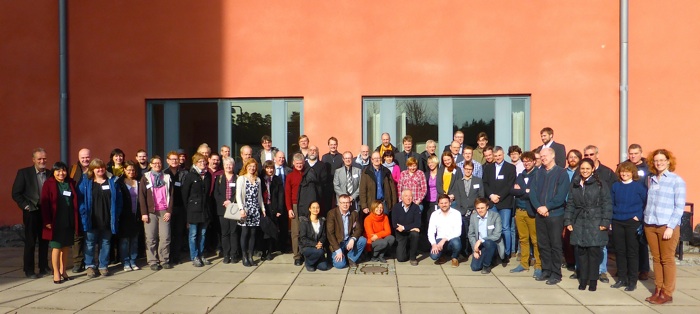 SRS 2014 group photo outside the Ångström Laboratory, Uppsala (Photo: Rick McGregor, IRF)
The 2014 annual meeting of SRS (Svenska Rymdforskares Samarbetsgrupp) was held from Tuesday 11 March 2014 to Wednesday 12 March 2014 at the Ångström Laboratory in Uppsala with the Swedish Institute of Space Physics as host. The meeting celebrated 50 years since the Swedish space scientists' network SRS was formed in 1964.
Programme:
The programme for the meeting is at
http://www.irf.se/link/srs2014_program
(PDF file, 50 kB).
Presentations:
Presentations from the meeting are available as
PDF files
. A number of
posters
were also on display at the meeting.
Dinner:
The SRS Dinner (paid for by the Swedish National Space Board) was held on Tuesday 11 March at Uppsala Castle.
Participants:
A list of participants at the SRS meeting is at
http://www.irf.se/srs2014/
Photos:
Photos from the SRS meeting 2014 are at
https://www.flickr.com/photos/irf_space/sets/72157643590694865/
Minutes:
SRS meeting 2014
minutes
(PDF file, 100kB)
Information about SRS:
For more information about SRS see
www.snsb.se/sv/Mediebank/Forskare/SRS/
(in Swedish).
Created 2013-04-23 14:31:16 by Mats LuspaLast changed 2015-01-29 09:34:58 by Rick McGregor