SRS (Svenska Rymdforskares Samarbetsgrupp) annual meeting, Kiruna, 12-13 March 2013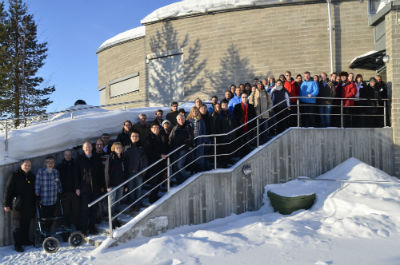 SRS meeting 2013 group photo - at the Space Campus in Kiruna. (Photo: Rick McGregor, IRF)
The 2013 annual meeting of SRS (Svenska Rymdforskares Samarbetsgrupp) was held at the Swedish Institute of Space Physics in Kiruna on 12-13 March 2013.
The meeting started on Tuesday morning 12 March and concluded at lunchtime on Wednesday 13 March. There was a study visit to Esrange Space Center on Tuesday afternoon, and the conference dinner was held at Esrange.
Programme and presentations
The programme for the SRS Meeting 2013 is at
http://www.irf.se/link/srs2013_program
with links to the presentations given.
Photos
A selection of photos from the meeting is
here.
Minutes
SRS 2013
minutes
(PDF file, 100kB)
Participants
A list of participants is
here.
Travel support for PhD students
Applications to SNSB for travel support for PhD students to take part in SRS 2013 in Kiruna closed on 18 February.
---
For more information about SRS see
http://www.snsb.se/sv/Mediebank/Forskare/SRS/
(in Swedish).
---
Updated 2015-01-29, Rick McGregor, rick*irf.se
Created 2013-03-06 13:57:44 by Rick McGregorLast changed 2015-01-29 09:39:39 by Rick McGregor