Agge Theander, Mellan himmel och jord - Institutet för rymdfysik 50 år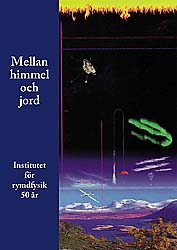 [Between Heaven and Earth: The Swedish Institute of Space Physics Turns 50]
(In Swedish with English summaries after each chapter.)
Publication details:
Kiruna: Institutet för rymdfysik [Swedish Institute of Space Physics], 2007.
ISBN 978-91-633-1104-8, 160 pages (paperback).
Can be ordered from irf*irf.se (price 200 SEK, excl. p&p).
Back cover text:
"Mellan himmel och jord - Institutet för rymdfysik 50 år är en bok som lättsamt vill berätta om den del av den svenska rymdforskningen som har sitt ursprung i Kiruna. Här beskrivs en enorm utveckling, från undersökning av rymden med enkla instrument från marken på 1950-talet till dagens avancerade rymdprojekt långt ut i solsystemet."
---
Updated by Webmaster*irf.se
Last update was 2013-12-12